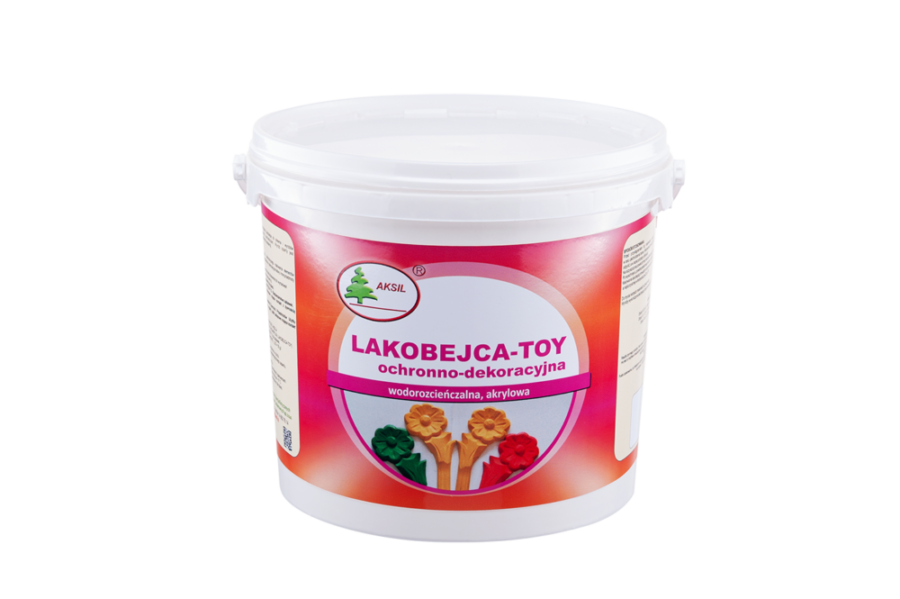 LAKOBEJCA-TOY
An ecological, one-component, waterborne product based on modern raw materials, it does not emit harmful substances into the environment.
Application
LAKOBEJCA-TOY is designed for protective and decorative painting of wooden and wood-based elements indoors.
LAKOBEJCA-TOY is also produced in a reinforced version used for external painting such as: sandboxes for children, colorful houses, etc.
LAKOBEJCA-TOY can be used to pain furniture for children and children's toys. LAKOBEJCA-TOY meets the requirements of PN EN-71: 3-Toy safety.
LAKOBEJCA-TOY can be used to paint shelves and store shelves in contact with food (in unit packaging).
LAKOBEJCA-TOY was certified by the National Institute of Hygiene (PZH) of the Food and Objects Research Institute and it can be used to paint children's toys and furniture, shelves and store shelves in contact with food (in unit packaging).
Colours
At the request of our customers, we manufacture LAKOBEJCA-TOY in selected colors from RAL, NCS and PANTONE cards.
Characteristics
• LAKOBEJCA-TOY is a one-component, ecological, waterborne product
• LAKOBEJCA-TOY provides decorative and protective, colorful, non-covering (with visible wood pattern) coatings
• LAKOBEJCA-TOY is resistant to water and alcohol
• The gloss of LAKOBEJCA-TOY is obtained by wiping with a flannel cloth
Expert advice
Surface preparation:
Surfaces to be painted, should be sanded with fine-grained sandpaper and thoroughly dusted off. Wash the resinous areas of wooden substrates with extraction gasoline.
Application:
Mix LAKOBEJCA-TOY thoroughly before using. Apply LAKOBEJCA-TOY with a brush or most preferably – by dipping onto the cleaned surface.
Clean painting tools with water.
Painting should be performed at a temperature of at least 10°C and most preferably at 20±5°C.