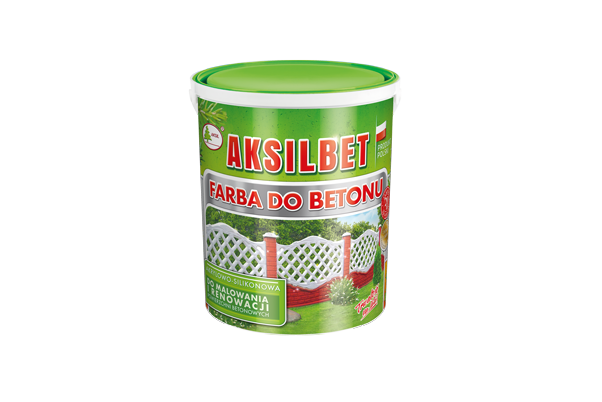 AKSILBET – paint for concrete
is an acrylic-silicone, water soluble protective-decorative paint with high resistance to weather conditions, high brushing resistance and excellent adherence to concrete surface. Based on the state of the art raw materials providing the highest quality.
Application
AKSILBET paint is designed for painting of:
• concrete fences
• concrete haberdashery, garden statues, balusters, concrete tombstones
• concrete flooring designed for pedestrians, e.g. in basements, warehouses, sett and concrete pavements
• communication engineering structures: bridges and concrete noise barriers
• residential, industrial and sacred building facades
• indoor building walls: public, livestock, consumables – NIH certificate
Colours
AKSILBET is available in 20 basic colors and 3 metallic colors:
Characteristics
• efficiency up to 1 litre per 8m2 at single layer
• provides an effect of fresh and clean surfaces
• vapour-permeable coat – enable vapour diffusion and has high resistance to carbon dioxide diffusion
• excellent adherence to surface
• efficient protection for concrete against erosion (carbonatization)
• composes a barrier against penetration of chlorine ions
deriving from surroundings (road salt), which destroy concrete


Download
Expert advice
Surface preparation:

The surface should well cured, firm, without dust and peeling layers, old paints and free from any contamination. The surface should be dry, without any visible traces of moisture.
Before painting, surfaces should be washed with pressure water with detergent, rinsed and dried.
Masonry concrete and smooth, compact surfaces should first be roughened by mechanical grinding, sandblasting or chemically using etching acids to ensure good adhesion and removal of cement lotion.
Absorptive, loosely bound, loose surfaces are recommended to be impregnated with AKSILUX.
Mould places, covered with moss, algae to be mechanically cleaned and disinfected,
e.g. using Aksil's GRZYBOBÓJCA.
Painting:
Stir and mix the paint before painting. First layer: dilute the paint with water 3:1 (3 parts of paint, 1 part of water ), in case of very dense surface 2:1 (2 parts of paint per 1 part of water). Second layer to be applied with non-diluted paint. Apply 2-3 layers. The next layer should be applied after approx. 1 hour. The drying time of the coating should be extended at lower temperatures.
The paint to be applied with the use of a paintbrush, paint roll or sprayed (pneumatic or hydrodynamic with a air cover).
Recommended parameters for hydrodynamic spraying (WAGNER gun):
– nozzle diameter 0,013-0,019 inch, e.g. 513 nozzle
– spraying pressure approx. 175-200 bar
– spraying angle 20 – 50
Thick coats up to 400 micron can also be wet applied
Recommended spraying guns: Wagner, WIVA and Kremlin.
Use water for cleaning painting equipment.
All painting works should be performed at ambient temperature between +5°C and +30°C, however
recommended temperature is 20±5°C and relative humidity up to 60 %.
Newly applied coat shall be protected against rain and frost.