EKO-DUR PAINT – epoxy paint for concrete flooring, water soluble
is a two-component, epoxy water soluble protection-décor paint of high resistance to wear, mechanical and chemical impacts. Based on the state of the art raw materials providing the highest quality.
Application
EKO-DUR PAINT is designed for:
• painting concrete flooring and stairs inside buildings; creates a matt and colour layer on the painted surface which is easy to clean
• painting floors exposed to mechanical loads and chemicals, i.e. in production halls, warehouses, garages, workshops with pedestrian and vehicle traffic (forklifts with rubber wheels)
• surfaces exposed to abrasion due to continuous sliding of the chair in the same place (swivel chairs on plastic wheels) should be protected with a mat intended for this purpose
• vertical surfaces of ceramic tiles indoors (bathroom, kitchen)
• vertical and horizontal markings on passageways
• EKO-DUR PAINT creates a self-levelling, non-slippery screed
VIDEO OF FLOOR PAINTING AND EKO-DUR PAINT- https://www.youtube.com/watch?v=yAiECxRnF_I
Colours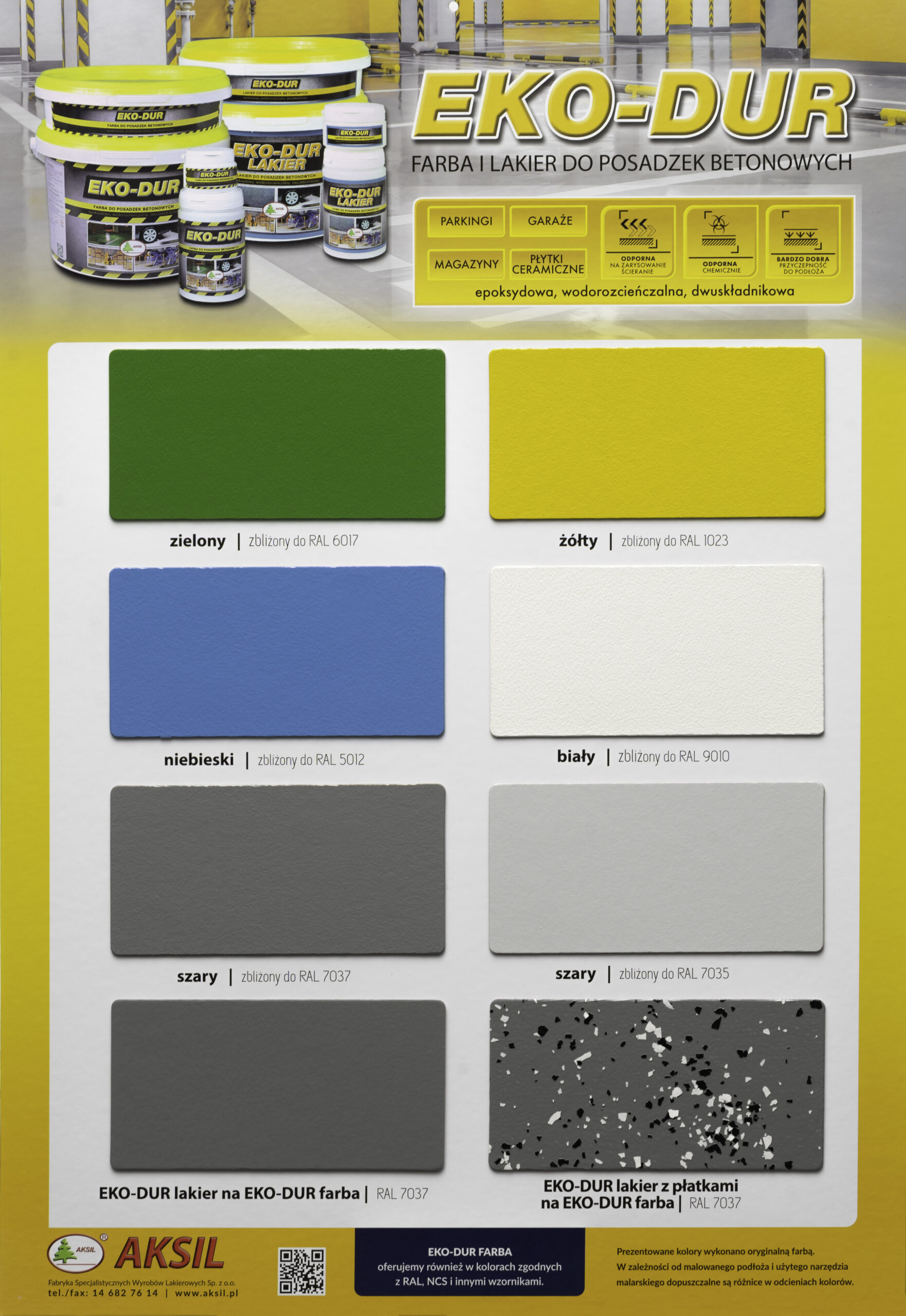 Characteristics
• efficiency: 1 kg of paint/1 m2. It is recommended to apply at least two layers.
• water soluble, epoxy two-component paint: component A – suspension of pigments and fillers, sa well as enriching products in resin designed for hardening the coat; component B – epoxy resin solution
• the coat is resistant to scratches, wear and impact
• the coat is chemically resistant
• semi-matt coat (or gloss on request)
• the coat is easy to clean
Download
Expert advice
Surface preparation:
Concrete flooring which is planned to be painted should be cured, dry and clean. Grease and oil stains should be removed be burning or cleaned with appropriate agent. Mashing concrete and smooth, compact surfaces must first be roughened to ensure good coating adhesion. This can be done by mechanical grinding, sandblasting or chemically using etching acids. This helps to improve adhesion and also remove dirt and cementitious milk.
In case of painting a concrete flooring previously painted or impregnated, remove old coatings first, clean the flooring and, preferably, impregnate with the paint prepared for use by mixing A and B components according to the following description and thinned with water in the ratio of: 1 part of paint: 1 part of water. After approximately 6 hours the paint can be applied.
Ceramic tiles should be degreased thoroughly with degreasing agents available on the market, and all scale deposits and molds should be removed in bathrooms. Then, roughen the smooth surface of the tiles by manual grinding or using an orbital sander. Use P100 sandpaper. The joints should be cleaned with a rough sponge or brush. Silicone joints must be removed completely before applying the paint. Dust tiles prepared this way and paint as directed.
Warning
In the case of surfaces with a dark tint, painting in bright intense colors (e.g. yellow RAL 1023), this surface should be painted once before with light EKO-DUR paint, e.g. white or gray RAL 7035 (the paint should be diluted with water about 20%) a then 2 times with undiluted target paint, e.g. yellow RAL 1023. Such priming provides better coverage for intensive colored paints.
Larger surfaces covered with EKO-DUR yellow RAL 1023 should be protected with EKO-DUR LACQUER.
Preparation and application:
Before painting the component A shall be mixed in a packaging, followed by mixing it with component B (mixture ratio: A:B – 5:1 by weight). The paint to be mixed and wait at least 5 minutes.
If the paint becomes too dense, thin it with water 20 %.
Use time of the product after mixed: 1.5 hours in case of mixture of up to 1 kg+0,2kg, in case of entire set: 10kg + 2kg 2 hours. The paint after 3 hours is not suitable for use any more.
In case the product becomes too dense initially (up to 1 hours), add a freshly made mixture A+B and mix.
Do not exceed use times of the mixture!
Apply ready paint with a paint brush, roller or spray gun. The paint to be applied twice. The second layer can be applied after 24 hours. Thickness of application: approximately 120 μm. Full hardening of the applied coat occur while drying in optimal conditions after 7 days.
The use of sand:
To obtain a non-slip floor, you can use sand with a grain size of 0.1 – 0.5 mm. There are two ways to make such a floor:
1. Cover with sand in the amount of 5-7% (calculated on the amount of paint for the first layer) the first, still wet layer of paint and spread evenly with a velor roller. Leave to dry. Then sweep the unbound sand and paint the second layer.
2. Add 5% sand to component A and then mix with component B. Apply the prepared mixture with a velor roller on the floor and spread evenly. Leave to dry. Then sweep the unbound sand and paint the second layer.
Sprinking with flakes:
For even more decorative flooring, you can sprinkle decorative flakes on the second wet layer. Flakes are sprinkled by throwing them high up. Leave to dry. Then sweep the unbound flakes and secure with epoxy varnish EKO-DUR LACQUER preferably twice.
Tools are best washed with water and vinegar.
All painting works should be carried out at ambient temperature not lower than 50C, and most preferably at 20 ± 50C.