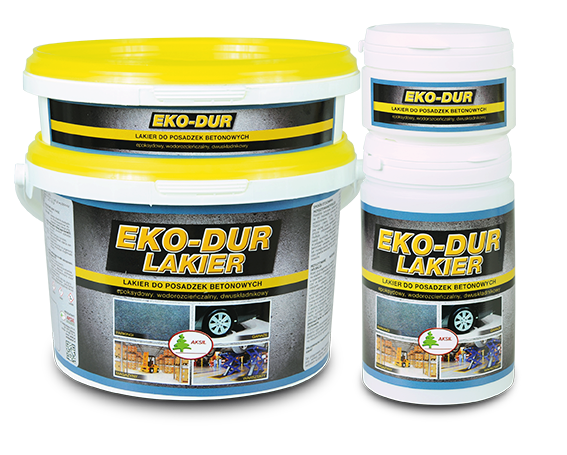 EKO-DUR LACQUER – concrete flooring lacquer
is a two-component, epoxy water soluble protection-décor lacquer of high resistance to wear, mechanical and chemical impacts. Based on the state of the art raw materials providing the highest quality.
Application
• painting concrete flooring inside buildings; creates a shiny and colour-free layer on the painted surface which is easy to clean
• painting a surface previously covered with EKO-DUR paint
• painting floors exposed to mechanical loads and chemicals, i.e. in production halls, warehouses, garages, workshops with pedestrian and vehicle traffic (forklifts with rubber wheels)
• surfaces exposed to abrasion due to continuous sliding of the chair in the same place (swivel chairs on plastic wheels) should be protected with a mat intended for this purpose
PAINTING A FLOOR WITH PAINT AND EKO-DUR LACQUER-https://www.youtube.com/watch?v=yAiECxRnF_I
Colours
The lacquer creates a colorless coating.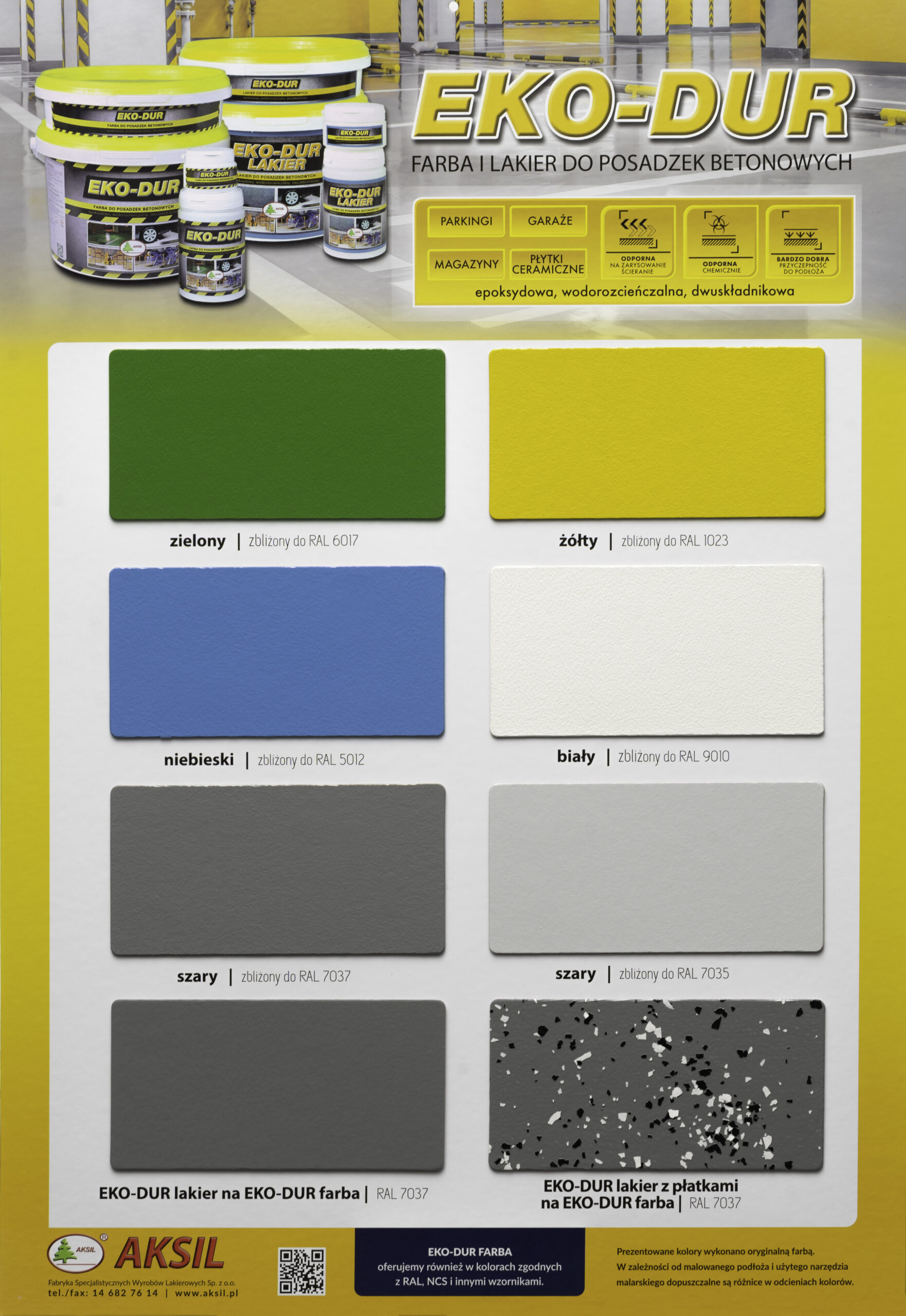 Characteristics
• efficiency: 1 kg of lacquer – approximately 16-20 m2 at single layer
• water soluble, epoxy two-component lacquer: component A – suspension of enriching products in resin designed for hardening the coat; component B – epoxy resin solution
• the coat is resistant to scratches, wear and impact
• the coat is chemically resistant
• the coat has a silky shine
• the coat is easy to clean
Expert advice
Surface preparation:
Concrete flooring which is planned to be painted should be cured, dry and clean. Grease and oil stains should be removed be burning or cleaned with appropriate agent. High smooth surfaces should be roughened. In case of painting of a concreter flooring which had been previously painted or impregnated, remove old coats and clean the flooring concrete flooring.
Preparation and application:
Before painting the component A shall be mixed in a packaging, followed by mixing it with
component B (mixture ratio: A:B – 16:6 by weight). The product to be thoroughly mixed and wait at least 5 minutes.
If the products becomes to dense, thin it with water (10%).
Use time of the product after mixed: 2 hours in case of mixture of up to 1 kg+0,37kg, in
case of entire set: 16kg + 6kg – 3 hours. The paint after 4 hours is not suitable for use any more.
In case the product becomes too dense initially (up to 1 hours), add a freshly made mixture A+B and mixed.
Do not exceed use times of the mixture!
Prepared lacquer should be applied with the use of a paint brush, paint roller or sprayed onto clean concrete or previously painted with EKO-DUR PAINT. It is best to use velor rollers with short pile. Lacquer can be applied as a single or double layer for better results. The second layer can be applied after 24 hours. Thickness of application: approximately 120 μm. Full hardening of the applied coat occur while drying in optimal conditions after 7 days.
Tools to be cleaned with water and vinegar.
All painting works should be performed at ambient temperature not lower 50C, preferably at the temperature of 20 ± 50C.