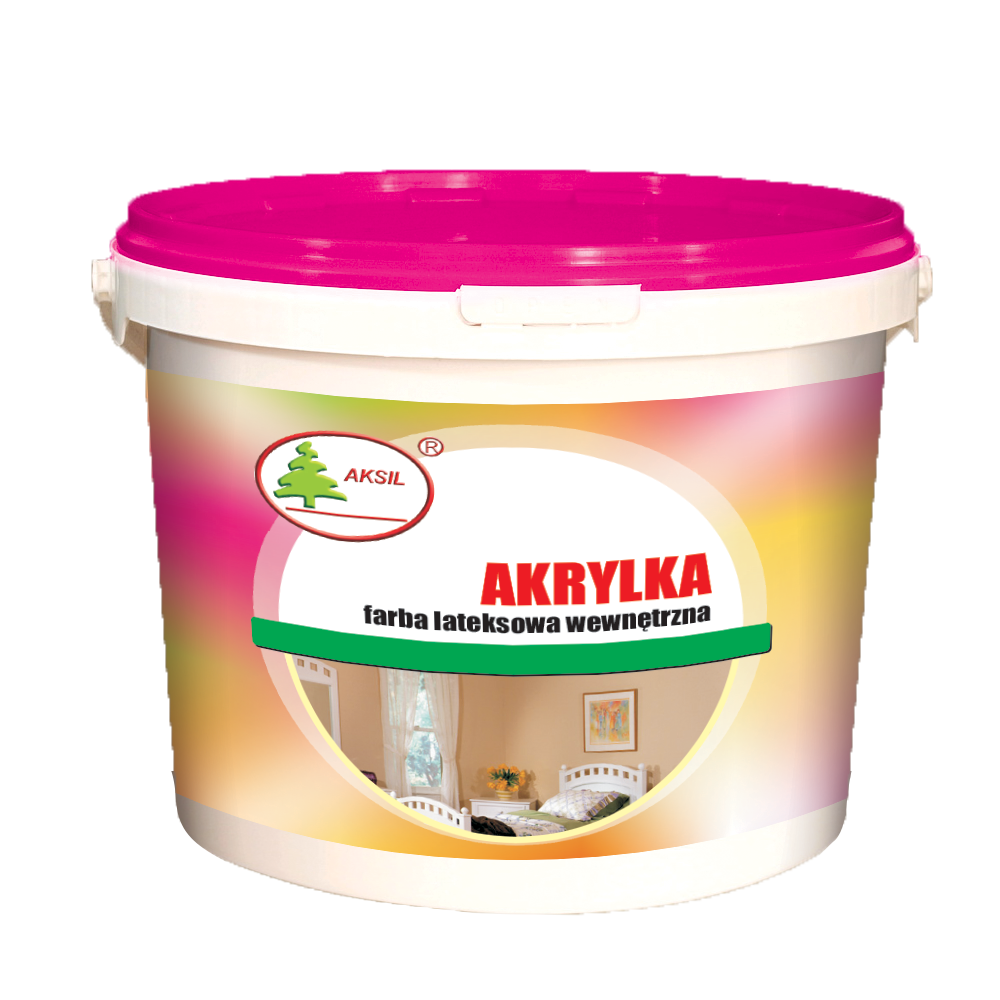 AKRYLKA – latex white paint for interiors
AKRYLKA is a high-quality, water-soluble latex paint creating layers of very good coverage and extremely high resistance, resistant to washing, matt and fully safe. Exceptional formula without any solvent content is characteristic of minimal level of odour and does not emit volatile organic compounds.
Application
AKRYLKA is designed for decor-protective painting of ceilings and wall made of lime plasters, lime-cement, lime plasters for interiors.
AKRYLKA can be applied in residential and public use interiors (schools, nurseries, etc.)
Colours
The paint is sold in white, after agreement it is possible to color it to the RAL and NCS pattern book.
Characteristics
AKRYLKA is a suspension of pigments and fillers in water dispersion of resin and additive of supporting and enriching agents
AKRYLKA provides matt or satin smooth and even coats
AKRYLKA coat can adhere perfectly to a surface
High resistance of the AKRYLKA coat to wet brushing – 7 times higher resistance to wear in comparison to requirements of PN-C-81914
AKRYLKA coat is vapour-permeable – breathable walls
AKRYLKA is easy to clean, easy in use and provides comfort of work – no splashing during application.
AKRYLKA does not generate harmful fumes nor unpleasant odour during application and drying 
AKRYLKA can be coloured with available pigment pastes
Download
Expert advice
Surface preparation:
The surface designed to be painted must be clean, dry and free from grease. Remove any dirt and dust from the surface which could limit adherence properties of the paint. Any signs of contamination should be cleaned with water and detergent and left until dry. Moulded surfaces to be mechanically removed and apply adequate anti-mould agent. In case of highly water absorbing or dusty surfaces should be covered with priming paint beforehand, e.g. colourless AKSILUX impregnate or AKRYLKA GRUNT undercoat paint.
Painting:
AKRYLKA PREMIUM should be thoroughly mixed before use.
AKRYLKA PREMIUM should be applied on dry and clean surfaces with the use of a brush paint or a roller (one or two layers – the second layer to be applied after 3-4 hours)
We recommend the ambient temperature not to be lower than +50C and not higher than + 300C, and relative humidity below 80%.
Use water for cleaning painting equipment.