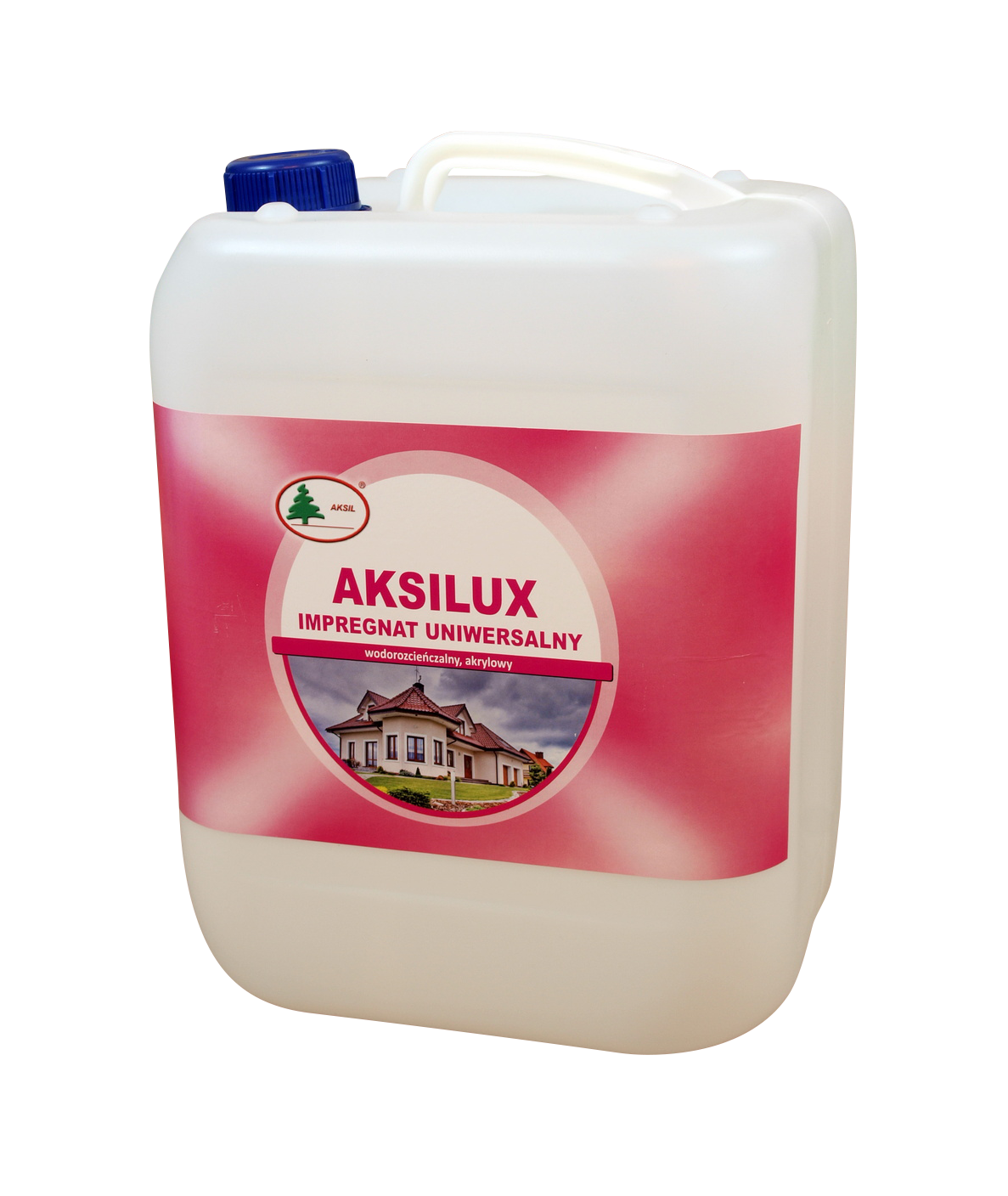 AKSILUX – all purpose impregnate
An acrylic, protective-improving water-soluble impregnate which can penetrate inside the surface designed for further painting or finish with decor materials.
Application
AKSILUX is intended for impregnation of highly absorbent and weakly bonded surfaces in order to even the absorbency of the surface and increase the adhesion of the top layer. Can be applied for concrete surfaces, e.g. concrete roof tiles, asbestos surfaces, fibre-concrete, mineral or acrylic plasters, plaster boards, walls before and after patching plasterwork.
The impregnate is designed for interior and outdoor painting.
Characteristics
AKSILUX all purpose impregnate:
– thanks to high penetration capabilities, the product migrates inside it binding and strengthening the surface – even very loose surfaces such as falling off facades, chalk paints, etc.
– filling of surface pores with the use of acrylic resin which makes the absorption homogenous all over the surface and reduces paint consumption improving their adherence to impregnated surfaces
– in case of concrete roof tiles and asbestos it is a must for renovation system of those surfaces by improving adherence of the paint to the surface
– the impregnate does not change vapour-permeability of surfaces onto which it is applied
Download
Expert advice
Surface preparation:
The surface should be sufficiently strong and even, in the case of fresh plasters seasoned, free from impurities and free of traces of algae and moulds. For large areas, e.g. roofs, use a pressure washer and detergent.
Application:
The impregnate should be thoroughly mixed before use.
Usually apply one coat (depending on absorption characteristics of the surface).
Surfaces which tend to cracking shall be secured at least twice.
Each subsequent coat to be applied after the previous coat is dried i.e. after 2 hours from the application of the previous coat.
Low pressure application is best in case of application of the impregnate of vast areas. The impregnate can also be applied with a roller or a paint brush.
The impregnate can be thinned with water.
Use water for cleaning painting equipment.
Impregnating shall be performed at the temperature of 5°C – 35°C.
Note: Cleaning and painting of asbestos can be performed only by professional companies due to asbestos dusting and the need to conduct professional preparation of the asbestos surface prior to painting.
Surface finish:
Painting, wallpapers, tile gluing, etc. shall be started after the impregnate is dry. Preferably not sooner than after 12 hours of drying at the temperature of 20 ± 2°C and relative humidity of air 55 ± 5 %.