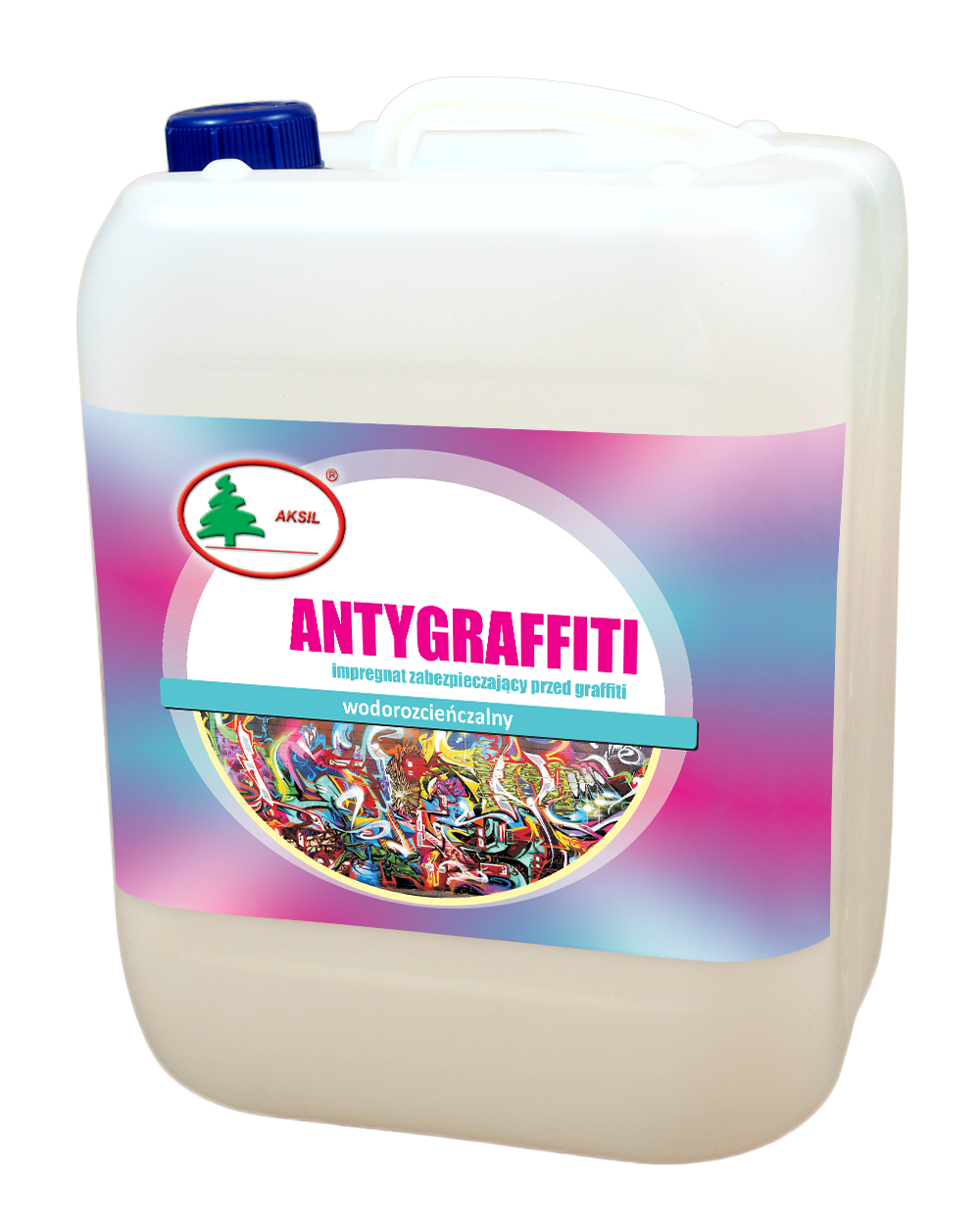 ANTI-GRAFFITI
A product for surface protection against graffiti which is based on modified
polymers. ANTI-GRAFFITI can penetrate into the surface. It protects the material against graffiti made with spray paints (oil, acrylic, etc.), water-resistant markers, ink, polluted air, acid rain and moisture. It does not withhold diffusion process simultaneously creating hydrophobing coat. It is transparent.
ANTI-GRAFFITI creates a protective surface, so-called cleanable – the coat of ANTI-GRAFFITI is also removed during cleaning the graffiti. The cleaned place should be again coated with the ANTI-GRAFFITI.
Application
ANTI-GRAFFITI is designed for various types of porous surfaces such as concrete, mineral and acrylic plasters, cement and lime plasters, surfaces painted with mineral paints.
Characteristics
ANTI-GRAFFITI impregnate:
– creates a one-off colorless, matte coating
– provides resistance against graffiti
– provides hydrophobing to the protected surface, protects the surface against damp, rain and snow
– improves lifespan of the protected surfaces
– improves frost resistance characteristics
– protects against dirt
Download
Expert advice
Surface preparation:
ANTI-GRAFFITI impregnate to be applied onto the clean and dry surface. The surface to be cleaned with water pressure tools with detergent. Remove algae and moulds with the use of special purpose agents.
In order to obtain the best hydrophobing effect we recommend the humidity of the surface not to
exceed 4% The temperature of the surface to be painted should be in the range of 10°C – 30°C
Application:
Apply two layers "wet on wet". Apply the next layer before the previous one dries, i.e. within 15-20 minutes from applying the previous layer.
Low-absorbing surfaces (marble, granite, etc.) should be covered with a 12% coating, i.e. 20ml of water should be added to 80ml ANTI-GRAFFITI.
Absorbent surfaces (cement, terracotta, etc.) should be coated twice with the addition of 8-10% concentrated product, i.e. 45ml water should be added to 55ml product.
For applying ANTI-GRAFFITI to large surfaces, it is best to use a low-pressure spray. Impregnation can also be applied with a roller or brush. Avoid excessive foaming of the product on the surface during application. If foam forms, remove it before drying.
The product should be evenly applied to the surface. Particular attention should be paid to surfaces in dark colors where streaks may be visible if the product is applied unevenly.
ANTI-GRAFFITI applied to the substrate darkens the coating, therefore, when applying it only to a certain height, apply an even cut, e.g. with painting tape.
Removing the graffiti:
The protected surface after painting with graffiti can be washed using a steam cleaner (hot water 70-90°C) and detergent. It is recommended to wash as soon as possible after applying the graffiti paint.
ANTI-GRAFFITI is resistant to one cleaning.
ANTI-GRAFFITI creates a protective surface, so-called cleanable – the coat of ANTIGRAFFITI
is also removed during cleaning the graffiti. The cleaned placed should be again
coated with the ANTI-GRAFFITI according to the manual.
Use water for cleaning painting equipment.
Impregnating shall be performed at the temperature of 5°C – 30°C.
Painting works should be carried out in appropriate atmospheric conditions (no fog, rain or snow).