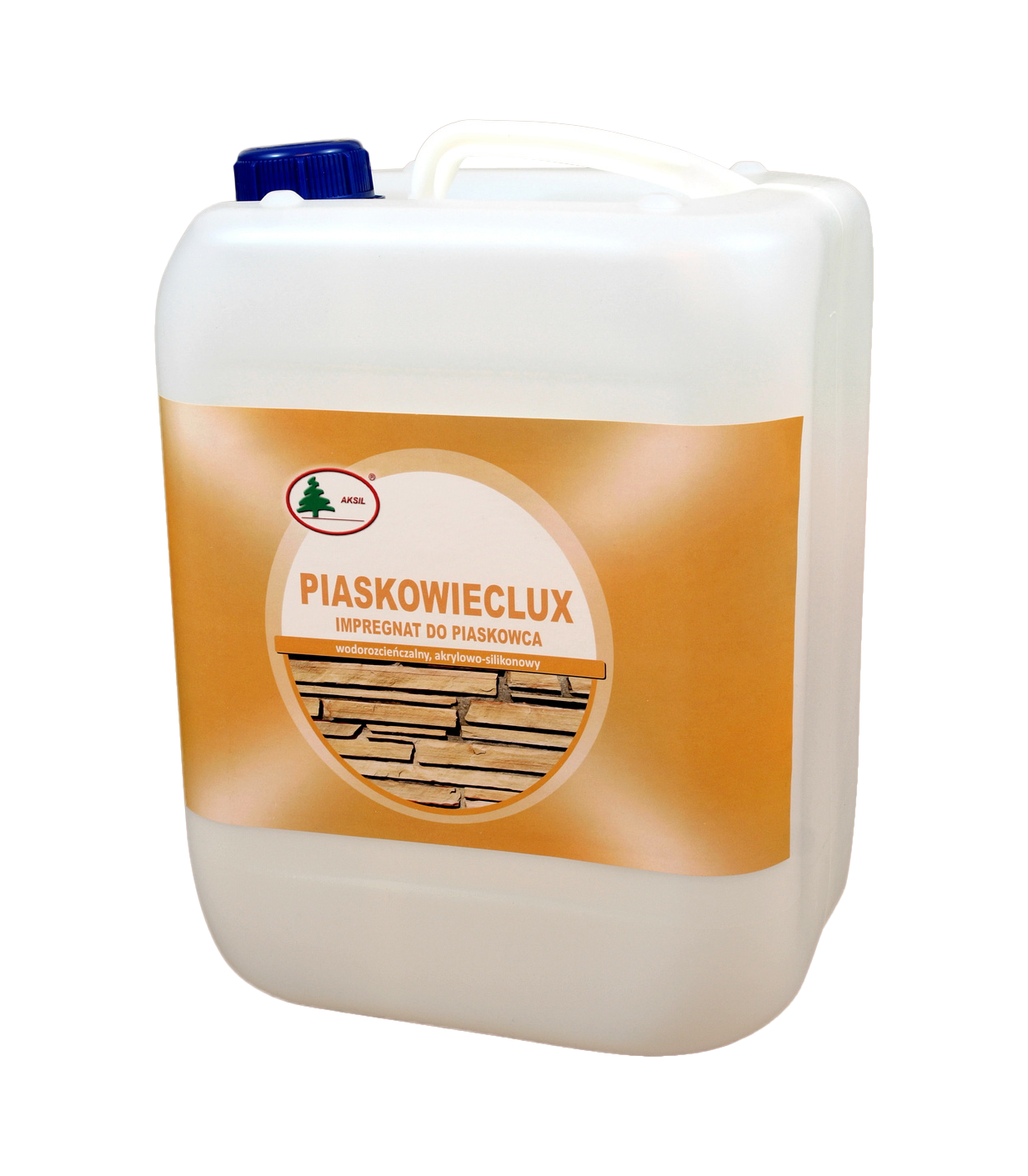 PIASKOWIECLUX – impregnate for sandstone
is a silicone, water-soluble decor-protection impregnate which can penetrate inside the surface of the sandstone and protects against harmful effect of water, frost, chloride ions and atmospheric pollution.
Application
PIASKOWIECLUX is designed for reinforcement and protection of sandstone e.g. underpinning and facades of houses, fences and fireplaces. It can also be used for facade tiles made of concrete including coloured.
Do not apply the impregnate onto outdoor horizontal surfaces.
The impregnate is designed for interior and outdoor painting.
Characteristics
PIASKOWIECLUX – impregnate for sandstone:
– provides hydrophobing properties to the protected surface, prevents water absorption
– improves frost resistance characteristics
– increases lifespan of the secured surfaces, prevent erosion of a stone
– protects against biological corrosion
– protects against contamination, defrosting agents
– allows to maintain the surface clean
– improves resistance to weather conditions and aggressive factors
– in case of concrete surfaces coloured in the mass the impregnate livens up their colour
Download
Expert advice
Surface preparation:
Impregnate to be applied onto the clean and dry surface. The surface to be cleaned with water pressure tools with detergent. Remove algae and moulds with the use of special purpose agents.
Application:
The impregnate should be thoroughly mixed before use.
Apply one, two or three coats depending on absorption of the surface and the intended final effect.
Sandstone which tends to cracking shall be secured at least twice. If a slight gloss if needed – apply three coats of the impregnate (gloss can only be archived on solid surfaces – not possible of very rough surfaces).
Each subsequent coat to be applied after the previous coat is dried i.e. after 1 hour from the application of the previous coat.
High pressure application is best in case of application of the impregnate of vast areas. The impregnate can also be applied with a roller or a paint brush.
Use water for cleaning painting equipment.
Painting works should be carried out in appropriate atmospheric conditions (no fog, rain or snow).
Impregnating shall be performed at the temperature of 50C – 350C.