CHALK PAINT
CHALK PAINT is based on selected fillers for excellent coverage. Designed for artistic stylization of furniture and other decorative elements in interior applications. The unique formula of chalk paint makes it especially useful to achieve Vintage, Shabby Chic effects.
Application
CHALK PAINT is recommended for various types of wood and wood-based surfaces, ceramics and melamine MDF boards (furniture boards).
Colours
CHALK PAINT is produced in white RAL 9010 and can be easily dyed with water-borne paint pastes. The following colors were obtained by mixing CHALK PAINT 0.9 l white with 1 pack of COLOREX paste.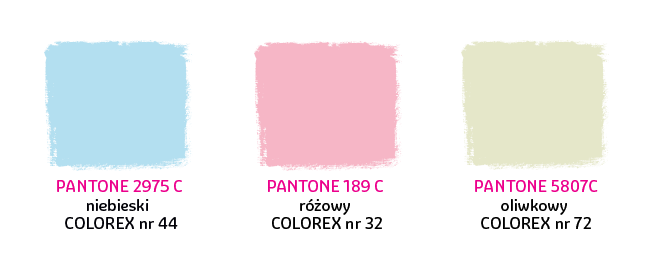 Characteristics
• a water-borne organic product (does not emit harmful substances into the environment)
• provides perfect coverage
• creates a matte surface
• easily sanded and rubbed, after wiping creates a silky coating
• has excellent performance
• it is produced in white and easily stains with water-borne paint pastes
Expert advice
Preparing the surface and the product for painting:
The surface to be painted should be strong, dry, clean, dust-free, and free of greasy and resinous stains. It is recommended to paint new wooden surfaces with one layer of CHALK PAINT  PRIMER to protect against the effect of tannins.
Mix CHALK PAINT thoroughly before use.
Application:
Apply 1-2 layers with a brush, roller or sponge.
The Shabby chic effect is obtained by applying two layers of different colors. The time between layering should be 2-3 hours (low temperature and high humidity increase drying time).
If it is difficult to apply the paint, moisten a suitable painting tool with water.
After drying, the coating can be sanded with sandpaper or abrasive sponge with a recommended granulation of 120.
To protect the final coat of paint, apply CHALK PAINT TOPCOAT or wax.
Apply the paint in a commercial form.
Painting should  be performed at a temperature of 20 ± 5°C.
Painting tools should be cleaned with water.
Exploitation:
It is recommended that painted items be seasoned for at least 3 days before use.