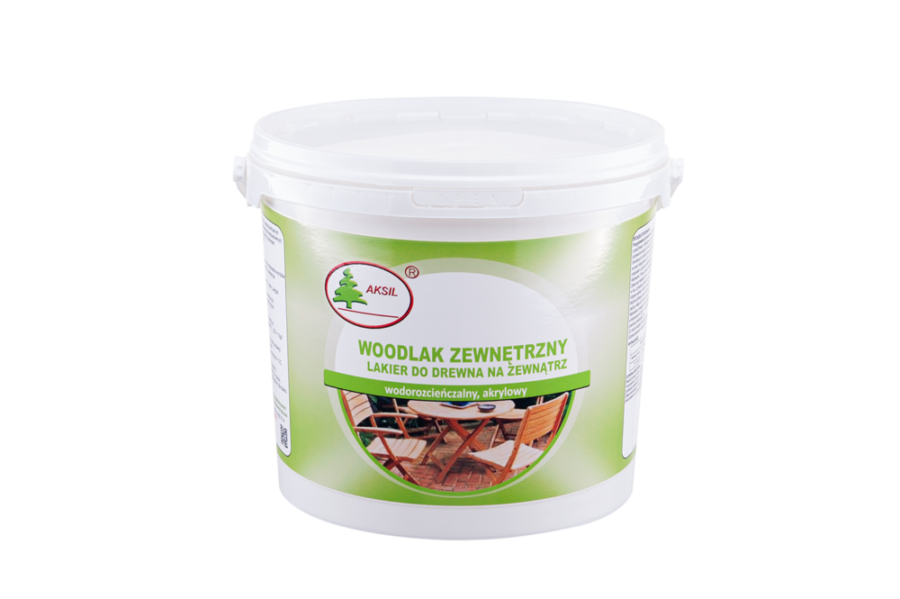 WOODLAK EXTERIOR – outdoor varnish for wood
An acrylic, waterborne varnish for wood and wood-based products used outside. The varnish is based on modern raw materials that do not contain harmful substances.
Application
WOODLAK EXTERIOR is designed for painting wood products and wood-based materials, in particular:
garden furniture
wooden garden architecture – gazebos, pergolas

furniture

decorative shutters, soffits, wooden and wood-based facade cladding
Colours
In the basic version, the WOODLAK EXTERIOR is a colorless product. It is also available in colors: pine, green, brown.
Characteristics
WOODLAK EXTERIOR creates varnish coatings with very good adhesion to the ground, high hardness and at the same time with high flexibility
creates coatings with high weather resistance
protects wood against water and UV radiation
it is produced in a semi matt version (gloss 33 degrees measured at an angle of 60 degrees) and gloss version (gloss 80-85 degrees)
it is adapted to three application methods: varnish for pneumatic spraying method (can also be painted with a brush), hydrodynamic spraying and immersion
Download
Expert advice
Surface preparation:
Surfaces to be painted should be sanded with fine-grained sandpaper and thoroughly dusted off. Wash the resinous areas of wooden substrates with extraction gasoline.
Application:
Mix the WOODLAK EXTERIOR before use. Apply the WOODLAK EXTERIOR to the cleaned surface by dipping, brush or, most preferably, by spraying. It is recommended to apply two layers; after the first coat has dried, i.e. about 1 hour, apply the second layer. Lightly sand the coating between layers. EKOAKRYLIK PRIMER sanding primer can be used as the first layer. The primer levels the surface and grinds very well.
Products painted before packaging are preferably seasoned at around 2 days at room temperature.
Clean painting tools with water.
Painting should be carried out at a temperature of at least 10°C, and most preferably at 20° ± 5°C